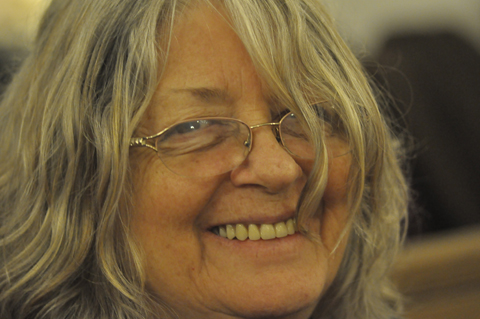 While given the name Deanne at birth, Deanne is known in the Goddess community as Bendis, "Fierce Huntress of the Two Spears", within the Goddess spirituality community. Her Druid friends know her as StagDancer. Deanne always has been a student of religion and theo/alogy. She spent the early part of her life as a student of world religion, beginning with her first term paper at the age of fourteen, which was on the topic of comparative religion. Her work as a Goddess woman began in the eighties and has been dedicated to helping women toward self-empowerment and in sharing with them the ecstasy of our Dance with Her. Her contributions have been devoted towards weaving webs across boundaries and continents, networking and pointing seekers far and wide, serving as moderator for many e-groups, serving as both peacekeeper and technical advisor for thousands of women as they grew in Goddess. She loves being in service to Goddess and promotes learning through diversity–a life-long passion for her.
Because of her passion for the Ogham, her studies have led her into a full exploration of Druidism.  As a result, Deanne is now offering a four year Druidic Studies program through her organization, Beyond the Ninth Wave and locally, in Austin Texas, through the Apple Branch Grove.
Deanne loves to write and has published five books. Her works include Dancing with Goddess, From the Branch – The Ogham for Spiritual Growth, Annym Billagh – Healing with the Tree Ogham, Ogham Twigs, and Her Breath, a collection of her poetry. She is currently writing Celtic Shamanism and Embody the Sacred.
Deanne is the founder of The Apple Branch, offering a mentoring program for those who wish to be of service in their communities.  She teaches the Craft as well as Druidism through her two sites, Apple Branch Grove Studies and Beyond the Ninth Wave. Deanne also founded the organization "Global Goddess", an online community of women who are committed to social/eco justice. Deanne spent almost half a year in Brazil where she worked with the Dianic Tradition of Brazil as a volunteer priestess.
For more information about Deanne, visit:
The Blue Roebuck
Global Goddess
Beyond the Ninth Wave
The Apple Branch – A Dianic Tradition