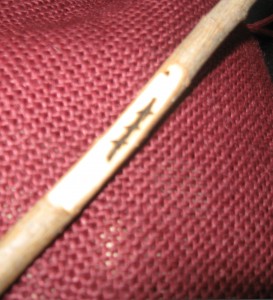 Ngetal (NYEH-tl)
Reed and Broom
Color ~ Nglas ~ Glass Green
Stone ~ Clear Green Jasper
Bird ~ Ngeigh ~ Goose
Word oghams ~ wound – charm – healing
Ngetal represents a sense of established power.
Reed is the tallest of the grasses, and is associated with water. It has a long tradition as a wand of authority, which is a symbol of recorded time. Papyrus is made from reed. A broken reed is a broken promise, a loss of trust, a seeping away of authority. The Reed is the scepter of the Queen. The reed is earthly power and authority.
The Irish used the reed "whitten rose" for thatching of roofs. A house was not completed or established until the roof was thatched. The dead stems rattle in the wind.
The month of reed marked the beginning of winter. The symbolism of the reed, rod, and scepter are symbols of power and authority derived from ancient tree worship.
It is time to batten down the hatches! Take time to prepare for what harm may be on the way. Reed offers protection. With reed in hand – protection is yours! Be prepared for a change or a disturbing event. Be prepared, organized, and stable. If you are prepared you can weather anything.