The follow text and pictures were first published in Hobo's Blog which is no longer online. I saved all the posts and wish to include them here.  Hobo passed on in Sept of 2010.
A Tentative Hello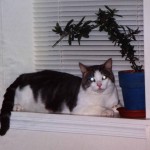 Let me first introduce myself.  I am Hobo.  As you can see I am a short-haired feline.  I am not sure that I belong to any registered breed of felines, but hobos are an unusual lot and have no need for fancy pedigrees or such.
I was born (as far as I know) in Delaware and had horrific beginnings – was lost or abandoned for an unknown period of time – arriving at the 'feeder's" house when I was perhaps a year or two of age.  All of this is rather vague and feels as though belongs in another lifetime.
When I arrived at "feeder's" house I was emaciated and starving, my large bony body nothing but bones.  And so I do own a debt of gratitude to "feeder" for making it possible for me to survive.
Life at The "Feeders"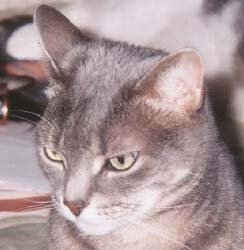 When I arrived at the "feeder's" there were two other felines already in residence.  They seemed to share duties round the clock.  Sweetie was the daytime controller and Biscuit ruled at night.  Sweetie got her name for being really sweet to the feeder – but ye gads – not sweet to anyone else – a bit of a bitch if you ask me!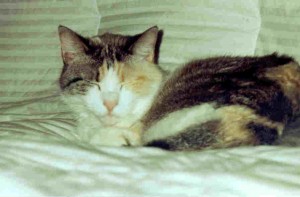 Biscuit on the other hand was a total nut case.  She slept in the closet all day and only came out after feeder had gone to bed.    I don't know how she could go so long with no water or even to use the cat box but that long without food is amazing.  We are talking 18 hours of hiding!  But when she did come out – let me tell you I made myself really scarce – hiding wherever I could because she was a demon.  Look at those eyes – what do you think?
Feeder really loved these two – I don't know why because they were definitely unfriendly.  I know she felt sorry for me because I was a sad case arriving when I did.  She did make sure I had plenty to eat and I soon became round and plump in her care.  But I don't think she cared for me much.  When I did gain weight she called me "phat."  And when I would look at her she even called me stupid!
Someone New Comes Into My Life
One day, feeder told me about a woman she knew who lived far away in California.  She told me that this woman longed to have a cat.  And so, being the creative guy that I am, I began to write to her, hoping to cultivate a friendship and perhaps even one day, with my tendency to wander, make my way to her door.
I found, in writing to this nice woman, a great friend.  She wrote me back and even seemed to enjoy an email conversation with a cat!
I even shared a few Hobo signs with her .  I thought it might show her how cleaver I am.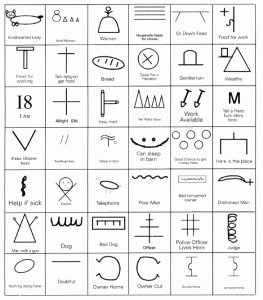 She liked these best!
Kind hearted Lady
Bad tempered owner
Kind woman lives here. Tell a pitiful story.
These people are rich.
Good place for a handout.
A kind lady lives here.  (I asked her to put this one on the door!)
A vicious dog lives here.  ( I asked her if this were true.)
Oh, I am so pleased.  She laughed but then, I forgave her for that as she is not wise to to the ways of Hobo's and she just thought I was being funny.
She has promised to put the one I asked for on her door and told her I was coming soon!
The Feeder has told me that before I go to her that she will come to visit me.  She is sure she wants me but she is not sure about the Feeder.    I am so pleased but I must not act too excited – for the Feeder is who fattens my tummy each day.
Oh,  I do think I am in love.  She is here and has paid so much attention to me.  She calls me handsome!  I have curled myself up next to her each night.  I am amazed at my behavior for I have never curled myself up next to anyone before.  I wonder why that is?    Feeder says she is going home tomorrow but that soon we will travel to California and find her by the sign she has placed on her door.  I am dissappointed that I am not going alone.  Not only is the Feeder going but the two bitch cats from hell are travelling with us as well.  Damn!
She lives by the ocean but I don't care to see the ocean, all I wish is to be with her.
The trip was long and boring.  Feeder had us all locked up in these damn cages.  Mine was green and all I could see were the green walls.  Can you imagine riding in a car for 3000 miles and looking at blank green walls the entire time.  Barf!  I did show my appreciation with furr balls each day!
Finally, I am with her – I can't get enough of her.  The bitch cats from hell are constantly keeping me in hiding however.  But now I have someone who loves me and so the little bit each day that I can be with her is good.
We live in a two room apartment – two humans and 3 cats.  It is a bit crowded but we manage.  And she lets me sleep on the bed with her – so life is good.
Much time has gone by.  I haven't recorded anything in quite some time.  There truly was nothing much that was eventful to talk about.  I adjusted to being an indoor cat.  I am fine with that so long as my food bowl is kept full and I have fresh water.
Something wonderful has now happened and I am so excited.  Yesterday the feeder and the two bitch cats from hell drove off in the Tracker and left me alone with her.  Is it true?  I am going to have to all to myself?
She tells me we are leaving however and will be driving to our new home in Texas.  I am good with that so long as I am with her.  This is a dream – no bitch cats from hell – no Feeder!  I also think it is time I stopped just calling her "her."  I think of her as "My Keeper" because I know she will keep me forever.
The trip was easy.  Once more I had to ride in that green box but it did not take as long.  We have a new home just me and My Keeper.  We have had much time together because her job starts in April.  She tells me we won't just be the Hobo and My Keeper anymore that a new member of the family is coming.  Drats.  Knew it was too good to be true.  Nothing could be worse than those bitch cats so what the heck – I can adjust to anything.
She is getting on a plane tomorrow to fly to Connecticutt to pick up what she calls Redbone.  She tells me he is a dog and one she has dreamed about.  Guess I can do dog.  I can teach him how to live with me.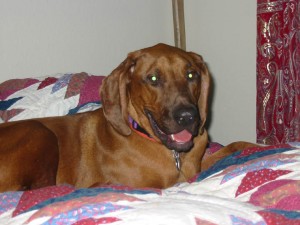 She did not tell me this Redbone was huge!!!!  Oh my God!!  At first he scared me but putting on my brace face I gave him one swat and we are now friends!
Did I tell you how much she loves us – her animals?
We now seem to be four – My Keeper, Redbone, Me, Sir Hobo, and now we have Milo.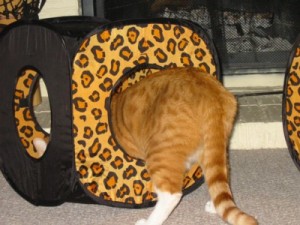 Seems Milo was living with her daughter – was a little homeless fellow like I was once – she raised him on a bottle, and well, My Keeper and her soft heart …. yea, we now have Milo.  We even play!!
Two Bums!
I have figured out the My Keeper is a Hobo just like me.  We have moved so many times and now we have moved to Georgia.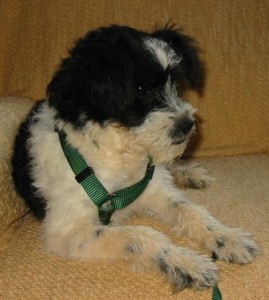 What does she do as soon as we get moved in?  She brings in a new dog.  Saved her life though.  This little girl was going to be put to sleep the very next day.  So I guess it's ok.   Ye gads, this one is smaller than me and I keep trying to teach her who is boss but I think I am losing the war!!
My Keeper and I am learning what terriers are all about – The Chase!!!!!!!!   She is most definitely helping me keep my svelt figure.  Sometimes I run away from her and hide but at other time I enjoy the chase.  If she gets too rough I swat her and that lasts about 10 seconds – whoa – she is a handful.
But all in all we have learned to be housemates and I still get all my attention from My Keeper.  No matter how many of us there are – I know I am Number One.
One of the things that has been great about living in Georgia is that My Keeper built a pen outside for me.  I have been able to go out and bask in the sun, free from worry of predators.  The fence is 6 feet high and with my gentleman's build I cannot jump that high.  She is such a kind lady to think of me when she built the fence.
But I am losing the fence as we are off once more.  Seems she has lost her job which means we have to give up this beautiful cabin in the woods we have loved so much.  Our friend Judith is very sad and I know My Keeper will miss her a lot.  It has been many years since she had a true friend like Judith.  I will miss her too because she makes it quite clear she prefers me to Poppy.  Judith has 6 cats of her own.  They come to visit me from time to time.  They sit on the other side of the fence and we talk but they seem a bit afraid of me.
We are living amongst a zillion boxes right now.  The truck comes on Friday and we will load (well, I will watch) and take off for Texas on Saturday.
The carpet cleaning man is here right now and I have been locked in the bonus room while Poppy has to be outside.  I am lucky because it is warmer in here.
Somewhere in there I should have told you that I had surgery.  I had a bad tooth and it was hard for me to eat.  My Keeper figured it out because I got kind of smelly.  So off to the Vet we went.  They had to put me to sleep (thank goodness) to do the extraction.  Before they did so, however, the nice lady that they called the Vet put a needle in my arm and this red stuff came out into the tube.  It was kind of scary but it didn't hurt all that much.  The Vet told My Keeper that I have a disease called FIV.  She explained that it was an immune disorder and that was probably why my teeth were so bad while I am still so young.  See 10 is about half a lifetime for a cat so yes while no longer a kitten I am not old either.  She told my Keeper that the only way I could have gotten it would be to have had a blood letting scruff with an infected cat but I don't remember ever having such a fight unless it was with those damn bitch cats I used to live with!
Anyway this FIV is supposed to be causing me to be sick a lot – colds and infections – but – hey – not me – I am very healthy and am never sick.
Except I guess if they put me to sleep – because when they did that to pull my tooth – I almost died.  They had to revive me and the Vet told My Keeper that I should never be put to sleep again.  I am guessing that if I ever need an operation again – she will just have to let me move on to the Otherworld.  Guess I can live with that, so long as I am with My Keeper.
Feeling Pleased
I must say – I am feeling rather pleased with the news that I will stay with My Keeper and not go into fostercare at Drew's.  I love Drew but I was dreading having to deal with two new cats.  While Poppy is a nuisance – I am used to her ways.
We have all been living in very close quarters this week,  My Keeper moved her bed into the living room because she had this man come in to clean the carpets.  So there are two rooms of furniture plus all these boxes piled almost to the ceiling and the three of us in here day and night.  With all the doors closed I can't get into any closets or other hiding places so I stay tucked behind a table on the couch most of the time where Poppy can't see me!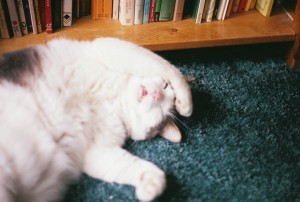 I am smart – much smarter than Poppy but oh my, she is so fast.  My portly gentleman's body simply cannot move that fast!  So hiding is my best option.  When I do come out of hiding, I just act like I am king and that usually works.
Let's see…  I think I left off when we were all living in two rooms piled high with boxes.  A lot has happened since then and while I wanted to keep you abreast of all of it – My Keeper was without the means to get me online to write here in my blog.  So we had to wait for this guy to come hook us up to the Internet.  While I was perfectly happy and content (once I got out of the car), My keeper went crazy with boredom.  I guess Poppy and I are not enough to entertain her.
So – the move.  whew!  They put all this stuff in a huge truck.  I mean filled it all the way to the top and to the back.  So when it was full and My Keeper finished cleaning the house – we took off.  I have to say this was a wonderful journey.  NO GREEN BOX!  Woo Hoo!  Oh my, sorry about that but really, I got to ride in the back seat and sit on my own blanket.  My Keeper put this purple thing called a harness on me – I didn't much like it until I figured out what it was for.  Then she hooked me up (with what she called a tether) to a seat belt.  This allowed me to be free in the back seat but safe as well.  While I might have wanted to dart out of the car or jump around all over it – I really wouldn't have done that.  That is just not part of who I am.  If I wanted to, I could stand up with my back feet on the seat and my front feet on the armrest next to My Keeper and look right out the front window at everything in front of us.  Poppy had a harness just like mine and her own tether and she was really good.  Except for one time she stayed over on her own side and didn't bother me at all.  The one time that she came over – I was actually asleep and when I woke up she was curled up next to me sound asleep.  Felt kind of nice, but please – don't tell her!
Really, riding in a car is pretty boring so I slept most of the time.  We took two days to get to Texas and the first night stayed in what My Keeper called a motel.  It was pretty nice – I got my own bed – it was queen sized – or so they said!  Felt kind of weird to be in a bed with a name like queen but I had it all to myself because, of course, Poppy, slept in My Keeper's bed.
I felt so bad for My Keeper through all of this because she was really sick.  She got a cough thing she called a cold but in a few days her asthma (I think that's something that makes it hard for her to breathe) got really bad.  She told me she almost went to the hospital on the day we left because she could not breathe.  She coughed – I mean really coughed – all the way from Georgia to Texas.  It was kind of frightening to me so I can imagine how scared she was.  She explained to me that with asthma, when you aren't breathing right your body is not getting enough oxygen and that makes you very, very tired.  It's like all the zip is gone.  But now she is all better – but it took about three weeks.
We are all settled in – this place is ok.  You know – one place is as good as any other for a cat like me unless I have to break in some new dog or cat.  My Keeper is happy because she is seeing old friends and even making new ones.
I have no idea what has happened to all the time from my last post.  Good Heavens….  I arrived in Austin and then went silent.  A quick update and then we can get to the present.
I lived there in that apartment with my Keeper for a little over a year.  Somewhere in there Poppy left.  I was told she got a better home with people who were not allergic to her.  I am not sure what allergic means but I was hesitant to show my ignorance.  I just know my Keeper has asthma and was itchy all the time and now she is much better.  As am I.
But there is no rest for the weary in this family, as once I had adapted to being the only furrline – Temen arrives.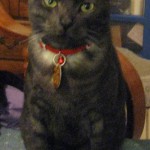 Temen is this little black tabby who has suddenly invaded my space and I really have a hard time with him.  He is rude and does not understand the alpha order in this house.  I am not sure my Keeper is even the Alpha anymore.  So, my solution is to remain quiet and cloaked so as to remain invisible.
Temen has grown up – he is about a year old now and is leaving me alone more and more these days – whew!!  That is a relief.
We have moved again and are now living in the upstairs of a large house.  We have one very nice large room and my Keeper seems happy here.  I hear loud meowing sounds sometimes outside the door and it makes me very happy that I get to stay on the other side of that door.  I am pretty sure it is a cat and from his voice – I just know he is bigger than me, so being inside with Temen is a relief!
I have been quite sick, but my doctor called today to tell me that I actually am in very good health, except for this nasty cold that has kept me from eating.  You see if I cannot smell my food, I cannot eat it.  This is what you might call a crash diet because I have lost almost half of my original body weight. I am down from 20 pounds to 11!
That means as I approach old age, I will have this youthful, svelt figure – you might even call me dashing!!
Saying Goodbye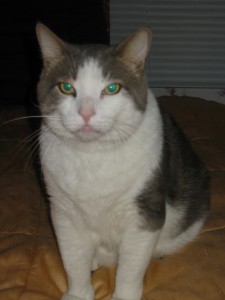 September 7, 2010 On the Dark of Moon – Hecate's Night
On this day, Sir Hobo made his final trip to be with The Mother in the Summerlands.  After three months of sickness and the strongest meds we could find, I made the decision to let him go.  My last gift to him.
May he rest in Her arms and always know how much he was loved.